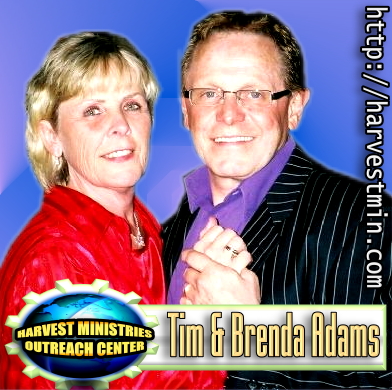 Founding Pastors:

Apostles Tim & Brenda Adams
The fresh anointing on Apostle Tim Adams, complemented with a vision to propel people into their destiny is touching lives of countless individuals. It is evident that God has called Apostle Adams to challenge the Body of Christ out of normalcy and into destiny. He encourages the church, to find needs and fill them, and find hurts and heal them.
Apostle Tim Adams is the Senior Pastor and Founder of Harvest Ministries Outreach Center in Wadesboro, North Carolina. Harvest Ministries is a multi-cultured, multi-racial church whose focus is evangelism and restoration. Since it's inception in 1999, Harvest has grown from 25 members to now hundreds on a weekly basis becoming one of the fastest growing churches in southeastern North Carolina. Harvest Ministries is complete with a House of Hope Homeless Shelter, along with The Movement Youth Center, Helping Hands Food Distribution, and over 44 in reach and outreach ministries that includes vans and buses transporting people throughout the region. HMOC reaches thousands of people each month with the many outreaches and services offered. Pastor Tim also has planted an outreach ministry in Charlotte, North Carolina.
Apostle Tim attended Ambassador Bible College in Cleveland Ohio and is ordained through World Harvest Church Ministerial Fellowship led by Pastor Rod Parsley of World Harvest Church in Columbus Ohio. The International Pentecostal Holiness Church, and Redemption Church.
Apostle Tim and Harvest Ministries Outreach Center are under the spiritual covering of
Redemption Church- San Jose, California
Apostle Adams resides in Wadesboro, along with his wife Brenda and 2 adult children
who are actively engaged in their parent's ministry.
= = = = = = = = = = = = = = = = = = = = = = = = = = = = = = =
What is an Apostle?
The office and ministry of an Apostle is one of five ministry gifts Christ gives to build and bless His Church as described by the Apostle Paul in Ephesians 4:11-16, "And He Himself gave some to be apostles The following biblical truths are clearly revealed in this passage and the entire New Testament:
All five ministry gifts are given by Jesus Christ Himself to His Church.
All five ministry gifts are needed for the Church to fulfill Her destiny.
All five ministry gifts are to operate until Jesus Christ returns for His Church.
(No where in the New Testament are any of the five gifts limited by time.)
The Church has historically had no problem accepting the ministry of gifts of "evangelists, pastors, and teachers", but even though "apostles and prophets" are equally legitimate New Testament gifts to the Church, there has been a lack of understanding and therefore acceptance of apostles and prophets. Based upon Eph. 4:11, and many other New Testament passages, there should be no more difficulty recognizing and calling someone that the Church recognizes as an "apostle" or "prophet", than calling others "evangelist", "pastor", or "teacher."
The word that is used throughout the New Testament for "apostle" literally means one sent forth from someone on a mission. The New Testament calls "the twelve" Jesus sent forth as "apostles" who had seen Him, and such others as Paul, Silas, Barnabas, Timothy, Epaphroditus, etc., who had not seen Jesus but were sent out later by the Church as apostles (Lk.6:13,9:10, I Cor.9:1,15:8, Acts14:4,14, Rom.16:7, II Cor. 8:23, Phil.2:25, I Thess.2:6, etc.).
The mission that Jesus Christ has sent apostles to do is clearly defined throughout the New Testament and is the same today:
Apostles are sent to take the gospel to unreached people (Rom.15:20).
Apostles are sent to plant or establish new churches
(I Cor.3:10, Eph.2:20).
Apostles are sent to appoint and train church leaders Acts
14:21-23).
Apostles are sent to be "spiritual fathers" to ministers/churches (I Cor.4:15).
Apostles are sent to unify the Body of Christ by networking with ministers and churches (Eph.4:1-16, Acts 11:27-30, Rom. 15:25-27, I Cor. 16:1-4, etc.).
Apostles are sent to demonstrate and impart the supernatural (II Cor. 2:12, Acts 4:33, 8:4-7, 14-15, 10:44, 19:6, Rom 1:11, II Tim. 1:6-7).
Apostles are sent to correct false doctrine, sin, or church problems (I Cor. 1:1-16:24, Acts 15, etc.).
God is restoring all five ministry gifts to His Church, including apostles, so His Church can totally fulfill her New Testament mandate and mission today.